Why Mazatlan makes sense for your clients
Mazatlan has been chosen to host Tianguis — again. Mazatlan will host the digital edition of Tianguis, which will be held on March 23 and 24. It is the only destination, other than Acapulco, to host Mexico's annual travel market for a second time. This is yet another feather in Mazatlan's cap, as the destination has been committed to investing millions into its tourism infrastructure for the past three years, ever since it hosted the 2018 Tianguis Turistico.
Digital Tianguis Mazatlan

Hundreds of tour operators, travel agents, hotels, and related companies have already confirmed participation in the digital event. Some events, like the inauguration, will be held face-to-face in Mazatlan. Mazatlan hosted the first (and only) face-to-face tourism business event in Mexico in 2020, the annual Fiesta Amigos.
Merida was originally chosen to host both the virtual and in-person Tianguis Turistico this year. The in-person Tianguis will still go on as planned in Merida in the fall. 
Investment in Mazatlan

Mazatlan has been deep in investment mode ever since it hosted the Tianguis Turistico back in 2018. Some of those improvements included a face-lift to its 13-mile Malecon, refurbishing the Angela Peralta Theater, and a makeover to El Faro Lighthouse. 
But it didn't stop there. At the 2019 Fiesta Amigos event, it was announced that Mazatlan would open a new Parque Central, a 32.5-acre park in the heart of the city with room for playgrounds, two spaces for concerts, special events, food trucks, a saltwater lake, and a 3.4-acre aquarium. The aquarium will feature a 660,000-gallon oceanic tank and an IMAX theater. These were expected to open in April of 2021, but with Covid delays, the opening has been pushed to the fall. 
New hotels in Mazatlan

It was announced last week that Accor would be bringing its Hyde brand to Mazatlan's Zona Dorada. The 75,277-square-foot beachfront property will break ground this year and will open in 2023. The Hyde Hotel & Residences will be the first one to open in Mexico, and Accor's choice of Mazatlan as the first place for the brand to make landfall signals the start of something big, as recognized brands are starting to select Mazatlan for their Mexico expansions.
"There are two important hotel chains that are in negotiations with the Estrella Del Mar complex, located at Stone Island," said Julio Birrueta, director of the Mazatlan Tourism Board. "They currently have a Robert Trent Jones Jr. golf course, a housing development, and a luxury hotel."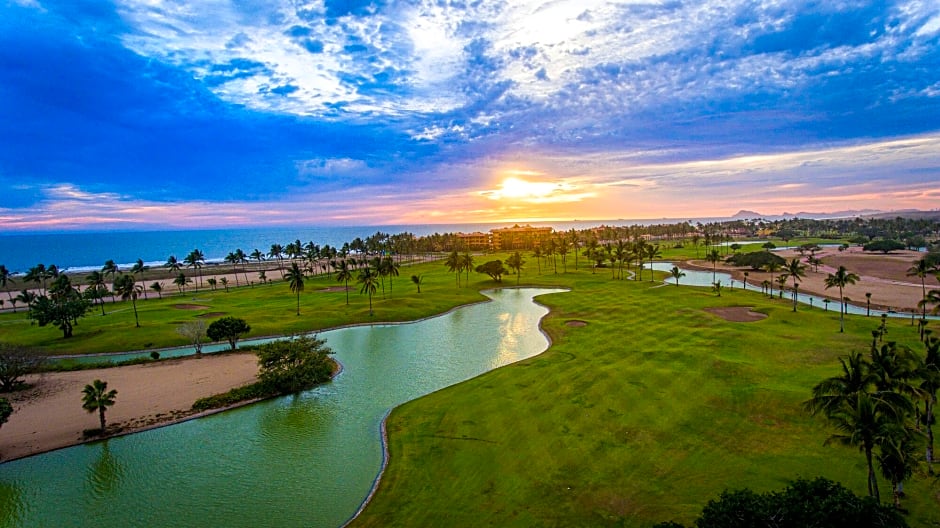 Birrueta confirmed that Marriott will soon open a 220-room beachfront property with the Courtyard Resort brand. Fiesta Americana is currently building its first five-star hotel in the Zona Dorada, and its Grupo Posadas sister brands, Fiesta Inn and One, are building business-class hotels in the Zona Dorada, as well.
"Within the next five years, with so much infrastructure, a renovated Centro Historico, a very healthy economy, and one of the best medium-sized cities to live in Mexico, we believe we will be one of the most attractive destinations for tourism investors, especially working with recognized hotel brands," said Birrueta.
Cruise comeback

Celebrity Cruises has announced that it will return to the Mexican Riviera for the first time in eight years with seven- and eight-day sailings from the Port of Los Angeles. Twelve cruises will be offered from late September through mid-December 2022. In addition to Cabo San Lucas, Puerto Vallarta and Ensenada, the ship will also call in Mazatlan.
"We believe [the cruises] will be back with the same pace from before the pandemic," said Birrueta. "They were growing at double digits year by year in capacity. We expect that they will be back in full span no later than Fall 2021."
Looking ahead

Mazatlan has long been a hidden jewel on Mexico's Pacific Coast. While destinations like Puerto Vallarta and Los Cabos exploded with development in the past few years, Mazatlan's growth was more of a slow burn. But looking ahead, 2021 is going to be a tipping point for the destination, especially as travelers are itching to get back out there as travel starts to ramp back up.
Because Mazatlan's growth has been slower, it is still an impressive value compared with other destinations in Mexico, which is especially important these days. It will likely remain a good value for some time, so now is the time for travel agents to strike and start pitching Mazatlan to clients looking for something new in Mexico.
"After [Covid], the value will be right, not only in Mexico as a country, but in Mazatlan," added Birrueta. "Mazatlan has always been an unbeatable value, with so much to offer. Airlines will need to put their aircraft up in the air, so good airfares will be available for a while."
Mazatlan is 100% up and running, and it maintained tourist activity during the pandemic, while observing the hygiene protocols. With the new public and private investments about to roll out, agents have more reasons than ever to pitch Mazatlan to their clients.
Source: travelweekly.com