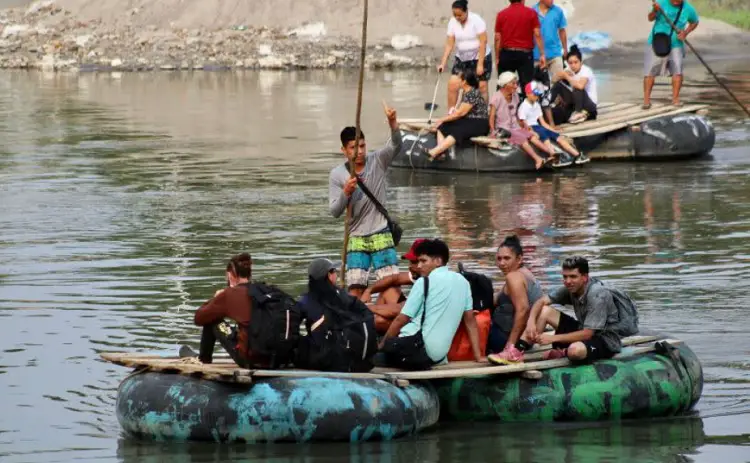 TAPACHULA, CHIAPAS.- Dawn had barely illuminated the turbid waters of the Rio Suchiate at the border with Guatemala when the boatmen — plunging long poles in the muck to propel their vessels — began to transport their daily load: a polyglot contingent of migrants from across the globe. All had a common destination: the United States.
"We didn't make it to America before the end of Title 42, but still we will continue forward," declared Félix Bandres, 61, who led a church group of some two dozen Venezuelans, including women and children, crowded on the raft crafted of wooden planks secured to inflatable inner tubes from tractor tires. "It is a necessity, and the search for a better life, that is driving us."
Officials in Washington assert that the number of illicit crossings along the U.S.-Mexico border has declined since the May 11 end of Title 42. The pandemic-era rule, put in place by the Trump administration and initially retained by the Biden White House, allowed the Border Patrol to turn back hundreds of thousands of migrants without affording them a chance to apply for political asylum or seek other relief from within the United States.
But here, some 1,000 miles from the Rio Grande, the chaotic scene is business as usual: Huge numbers of U.S.-bound migrants — mostly South and Central Americans, but also a mix of people from Africa, Asia, and Europe — are making illegal crossings of the more than 500-mile border separating Mexico from Guatemala.
The river crossings pose a challenge for U.S. authorities navigating the post-Title 42 legal landscape.
The Biden administration, under intense political pressure to ease illicit migration at the U.S. border, warns that those crossing into the country illegally will be presumed ineligible for asylum and subject to deportation — or possibly prison. U.S. officials are encouraging migrants to seek appointments before reaching the country by using the glitchy CBP One mobile app.
It is not known how many migrants bound for the U.S. are entering the vast border zone between Guatemala and Mexico. Much of the stretch is composed of unpatrolled stretches of rivers, mountains, and jungles.
Click here to read the complete original article on Los Angeles Times
Source: Los Angeles Times