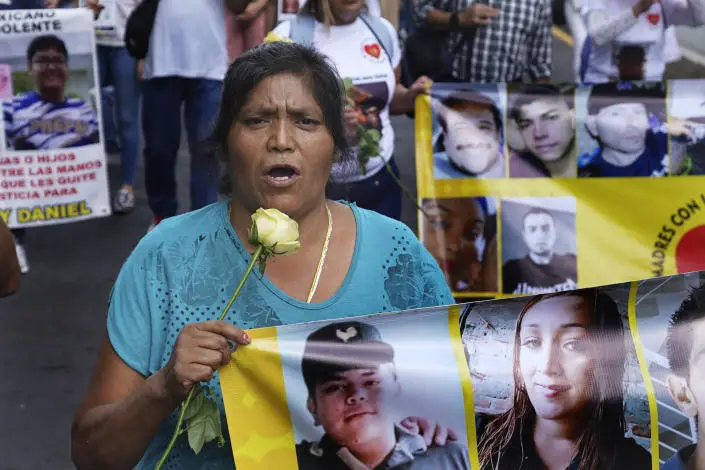 The last time Sonia Cruz saw her 14-year-old son, was just a few days after Christmas, December 2022. He walked out onto the street at 8 p.m. in their small town in northern Mexico going to meet his girlfriend, but he was dragged into a black truck that sped away.
Five months later, Jose Luis Martinez Cruz is among more than 112,000 names on Mexico's list of disappeared people.
"Not knowing where your child is, it's like this horrible hopelessness — knowing that someone took him and you can't do anything about it," Cruz said on Wednesday, March 10th. "You make yourself sick, you get up, you cry, you don't eat. The pain never stops."
With the hope of finding her son dwindling, Cruz joined with hundreds of other parents whose children are missing to march through Mexico City demanding answers as the country observed Dia de la Madre — Mother's Day.
As violence deepens and disappearances grow more common in Mexico, the day brings little more than anguish for mothers like Cruz.
So far this year, 4,145 people have been reported as disappeared, according to government figures. While researchers and activists say the real number is likely far larger, the figure represents a more than 20% increase from the same period last year.
It underscores the rising levels of violence in Mexico amid increasingly violent power struggles among warring drug cartels and other criminal groups.
Shortly before the march, President Andrés Manuel López Obrador sent out a message of "affectionate congratulations to all the mothers in our country."
He listed teachers, journalists, grandparents, Indigenous women, laborers, businesswomen, and more. But the president, who has repeatedly played down rates of violence in Mexico, did not once mention the mothers of the disappeared, who have gained a spotlight in recent years amid their calls for justice.
During the demonstration, Cruz carried a photo of her smiling son in a clean white button-down shirt. Underneath his photo, a sign read: "We miss you love. Together until we find them."
He had dreams, she said quietly. He wanted to study engineering.
Hundreds of others walked past rows of similar photos and signs. "Where are our children?" they chanted.
"I'm not scared anymore. If (the cartels) want to do something to me, they can do it," Cruz said. "They completely strip our fear away. Nothing matters to us anymore. The only thing that matters is finding our children."
Compounding the bloodshed is a lack of punishment for those responsible as the government does little to investigate such disappearances, said Janice Gallagher, a professor at Rutgers University-Newark who is writing a book about the families of Mexico's disappeared.
Mothers like Cruz are often the ones who take authorities to task and even take up investigating their children's disappearances, and likely slayings.
"The cost to people who commit disappearances is basically close to zero," Gallagher said. "These mothers know that if they don't do anything, then the state won't do anything. … They are the only ones moving things forward."
Source: Reporte Indigo
---