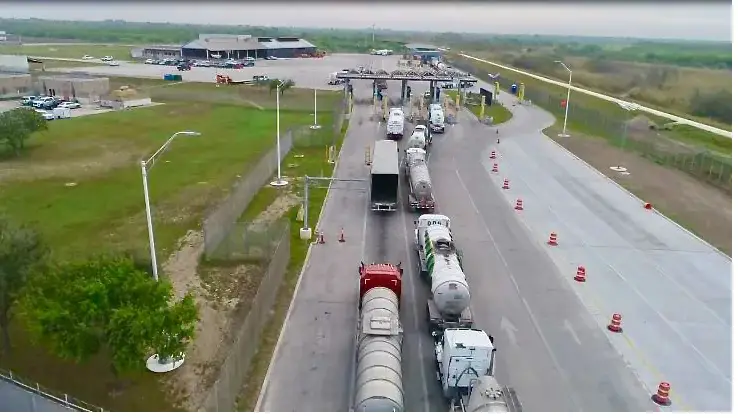 Wait times of up to eight hours are being caused by enhanced inspections of commercial trucks crossing the border from Mexico in South Texas.
The Texas Department of Public Safety (DPS) is conducting enhanced inspections of all northbound commercial trucks at the Veterans International Bridge in Brownsville and the Free Trade International Bridge in the town of Los Indios.
The enhanced inspections, which began Tuesday, reportedly have caused wait times of between three and eight hours at the two bridges. The inspections are slated to last through at least Sunday.
"DPS continues with their safety inspection 100% of all commercial vehicles at Veterans and Los Indios and this may go on until Sunday," Armando Taboada, assistant director of field operations at Customs and Border Protection's (CBP) Laredo Field Office, said in an email to the trade community on Wednesday.
The DPS inspections that began Tuesday are at least the third time over the last year that Texas has implemented state-run commercial checkpoints. The DPS inspections are in addition to those conducted by CBP, which already inspects commercial and passenger vehicles crossing the U.S.-Mexico border.
DPS did not immediately respond to a request for comment from FreightWaves.
Texas DPS spokesman Chris Olivares told the Center for Immigration Studies on Wednesday the aim of the inspections are to "make sure the trucks are safe and they're following state and federal regulations to make sure they are operating safely on Texas roadways."
The inspections come as a surge of migrants have reportedly arrived at the Texas-Mexico border.
U.S. Rep. Henry Cuellar, D-Texas, has been critical of DPS for the inspections, saying they could lead to unnecessary delays and costs.
"It's all show because they cannot open the trucks," Cuellar told Border Report. "They can only check for brakes, they can only check for windshield wipers and stuff. They cannot open the cargo trailers."
Source: El Vigia
Tamaulipas Post