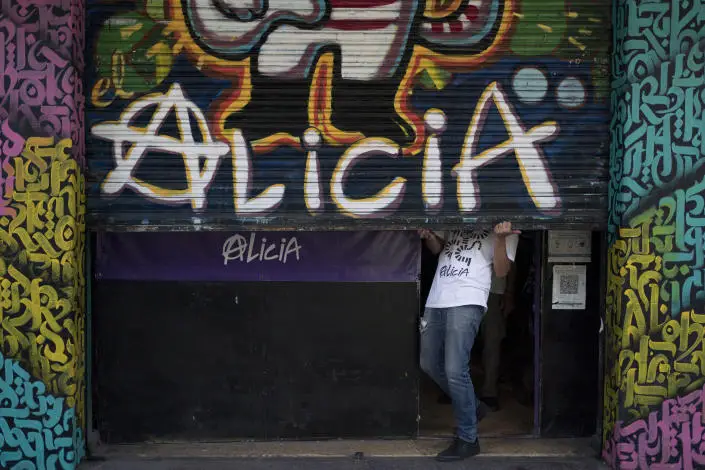 A line of people dressed in black, flannels, and piercings wound in front of a two-story building on one of Mexico City's main avenues. Graffiti reading "Alicia" was painted above their heads. Inside, a young man frantically scrolled over a list of names and prepared the entry hand stamp. It could have been any nightclub on a Friday night in the bustling city, but the whole line knew it was their last chance to set foot in what had become an iconic music venue and counterculture hub in the Mexican capital.
After 27 years, Multiforo Cultural Alicia closed its doors forever on March 12. For many, it marked the end of an era and signaled gentrification's toll on the city in recent years. "Nobody came at the beginning. It was a tiny place, uncomfortable, very punk," recalled Ignacio Pineda, 60, the founder of the Alicia. "But I didn't want a trendy bar. I wanted a place for the people."
For decades, Mexico's music scene was suffocated by its long-ruling Revolutionary Institutional Party or PRI.
Following the brutal army repression of the 1968 student protests — an unknown number of protesters were killed — Mexican authorities harassed long-haired youths. After lurid reports circulated about a 1971 concert in the town of Avandaro, no large public rock concerts were allowed for about a decade, and rock retreated into tiny venues known as "hoyos funky," or "funky holes."
The Mexican political system was shaken in 1994 when the Zapatista Indigenous rebels from Chiapas, in southeast Mexico, led a brief armed uprising to demand greater rights. The Zapatista movement ignited young Mexicans' political participation. A new generation emerged, looking for outlets to express themselves. Music and cultural spaces like the Alicia became that outlet for many.
In 1995, Pineda founded the venue with a group of friends, who quickly dropped out. At the beginning, Pineda – or "Nacho", as he's known – even considered shutting down the place. But the emerging Mexican music scene pulled him through.
He started inviting hardcore punk, surf, rock, ska, hip-hop, and garage bands, and the audience followed. At the same time, Pineda organized talks and conferences to tackle social and political issues.
"We always considered ourselves a political space, rather than a music venue," he told the AP. "We did something that nobody was doing."
Soon, the Alicia became one of the very few libertarian, anarchist, self-managed spaces in Mexico City. Abraham "Muñeko" Torres, the frontman of Nana Pancha, one of the most prominent ska bands in Mexico, first played at the Alicia when he was 16 years old.
Now 43, he recalls fondly being booed off the stage by punks after his drum kit pedal broke mid-concert. But he never stopped playing. His way of saying goodbye to the venue that allowed him to grow into the musician he is today was to play on that same stage one last time.
For him, it was like going back to his very first concert.
A mix of blue, red, and pink lights flashed over his hair, dyed a brilliant yellow, and over a crush of young Mexicans in a mosh pit.
They shouted one of the band's most famous songs, one dedicated to 43 Mexican students who were abducted and disappeared in 2014.
"Thanks to the Alicia, a lot of music bands like us learned to organize concerts and build our own spaces," Torres said. "For us (the Alicia) is a safe place, our learning place. It taught us we could live off music."
The late 1990s to mid-2000s saw a growth of self-managed concerts in Mexico City to avoid depending on commercial event producers. Everything from pamphlets, ticketing, security, and production was organized by the bands themselves, supported by political collectives.
It was the golden era of Mexican ska. The Alicia's punk influence was a predecessor of this movement.
The narrow concert hall sheltered prominent Mexican bands like Panteón Rococó, Sekta Core, Botellita de Jerez, Lost Acapulco, and Tijuana No! and hosted international artists like Manu Chao, Ska-P and Banda Bassotti.
Fernando Rodríguez, 32, was 15 when he first walked through the Alicia's doors. He said he couldn't miss one of the very last concerts of the Mexican punk-rock band Seguimos Perdiendo at the venue.
"The Alicia is one of the best spaces to get to enjoy a band from up close," Rodríguez said. "This place has meant a lot for Mexican rock."
The venue's name comes from an Italian counterculture radio station from the 1970s, Radio Alice, and Lewis Carrol's Alice in Wonderland. The space was inspired by the leftist self-managed occupied social centers in Italy in the 1980s and similar spaces called gaztetxes in the Basque Country, an autonomous region in Spain.
"It's sad to think that there will be generations that won't get to know the Alicia and that their first concert will never be here," Torres said.
Pineda said one of the main reasons he chose to close is because he doesn't like how the neighborhood around the venue has changed. A recent wave of digital nomads mostly from the United States has increased gentrification; long-time residents and businesses have been replaced with AirBnBs and hipster coffee shops.
La Roma, a historically middle-class neighborhood in Mexico City, is not what it used to be anymore, Pineda said.
On one of Alicia's final nights, Pineda walked in and out of the venue wearing a beret and a pair of worn-out Dr. Martens. He climbed the stairs and plunged once again into a sea of ska fans and dyed hair. He peeked from the sound booth, looking upon what he crafted over almost three decades.
The same neighbors who once looked down on the space, now wander by and tell Pineda they will miss him and the Alicia.
In 27 years, he missed only 10 days of work. It was his life project.
"I think there will be other places. This won't stop here, it's an independent movement, it's culture," Pineda said. "But I might come back at some point and sit on the bench in front of the Alicia, have a mezcal, and cry."
Source: OEM
---