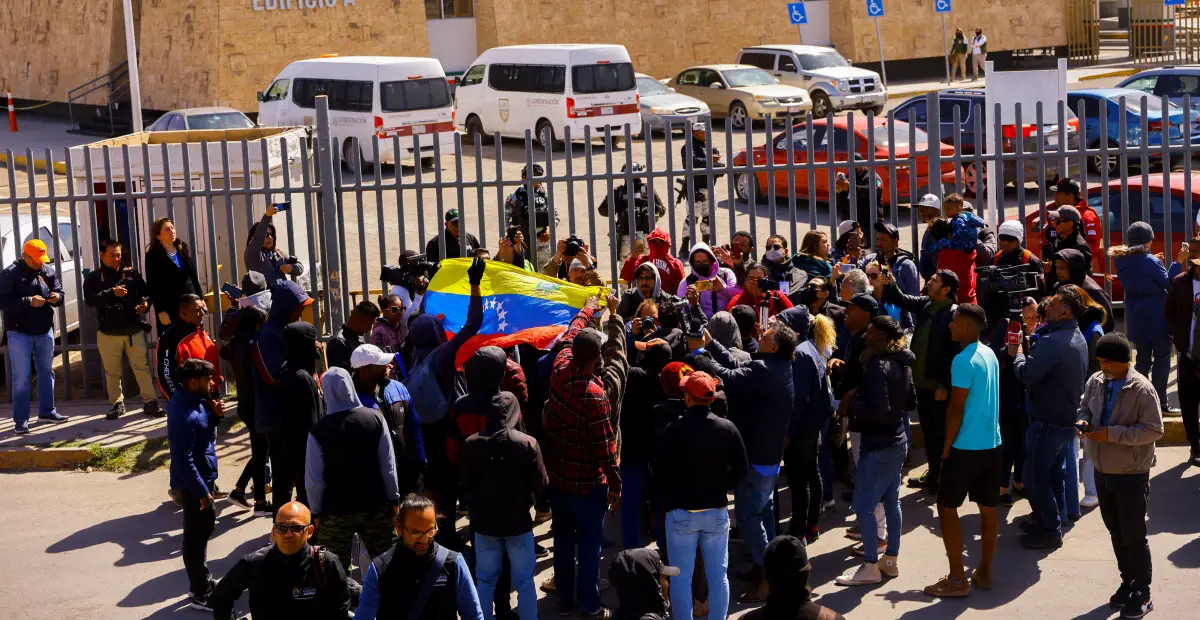 On Thursday, March 30th, activists began circulating a call to protest López Obrador's visit. An unsigned message circulating via Whatsapp said: "Migrants have a real need for changes and answers and to express themselves. The situation is really critical."
About three dozen migrants and their supporters waited outside the school in hopes López Obrador would give them a chance to be heard. One of the migrants read the names of the 39 victims into a megaphone.
Charter buses carried in the president's supporters, who stood nearby holding signs of welcome decorated with hearts. Two women held a sign painted with Bienvenidos in large letters and spoke to reporters about all the good López Obrador has done, listing his successes and support for the poor. But the migrants and activists drowned them out.
Before López Obrador exited his meeting and the migrants were still waiting, a Venezuelan girl, 13-year-old Ana Pavón, took a microphone and told a semicircle of reporters and photographers a harrowing story of maltreatment by Mexican authorities on her family's journey north.
"I am a migrant and want to be heard," she said. "We have the right to travel through this country. We're not animals and we're not pollos" — chickens, as migrants are called by smugglers — "who should die fried."She asked the Venezuelans present to join her in singing their national anthem. The voices of men became a chorus; tears kept her from singing.
Mexican President Andrés Manuel López Obrador holds a news conference during a previous visit to Juárez on Aug. 9, 2021.
Details of the blaze emerge
Details of the cause of the fire began emerging this week:
The Juárez Fire Department has no record of an emergency call from the National Migration Institute on Monday night, when migrants allegedly set fire to foam mattresses inside a locked cell, according to La Verdad de Juárez. Firefighters arrived "by coincidence" after responding to a call nearby and seeing smoke, the report said.
Detained migrants allegedly bought cigarettes and a lighter from guards at the migrant holding center, according to El Diario de Juárez. Two Venezuelans allegedly set fire to mattresses, the report said.
Five people have been arrested in connection with the fire, according to the Associated Press.
Most of the victims were men from Guatemala, El Salvador, Honduras and Venezuela. More than two dozen people remain hospitalized.
Consular officials from Guatemala and El Salvador were in Juárez on Friday trying to secure access to the bodies of their dead, but as of Thursday the Mexican government had yet to release the bodies.